Tag Archives: ПРИКЛЮЧЕНИЯ ЧИПОЛЛИНО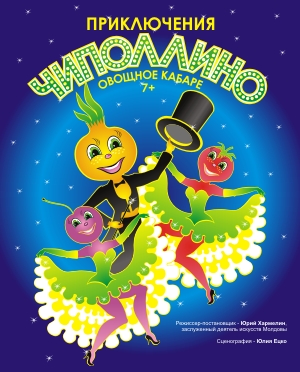 Sorry, this entry is only available in Русский .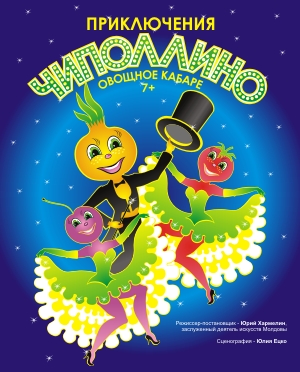 Vegetable cabaret songs and dances by D. Rodari, 7+
Producer
Y. Harmelin, Master of Arts of the Republic of Moldova
Scenography
J. Ecko
Choreography
A. Petrov
Musical arrangement and vocals
V. Pavlenko
Props manufactured
R. Rotaru
Costumes manufactured
T.  Dubasova and M. Nikulov
Lighting design
B. Neznanov
Decorations produced
Y. Odobescu, "Master – Golden Hands" and B. Naida
Makeup
T.Ochakovskaya  and V. Vorona, "Master – Golden Hands"
Characters and performers:
Ceremonies – S. Binkovsky
Prince Lemon – S. Agapov
Countess Cherry older – O. Sofrikova
Countess Cherry Jr. - K. Kurenkova, A. Hlopotova
Count Cherry – D. Reshitco
Zemlyanichka girlfriend Count Cherries, Cherries cook Decanter – E. Tendel
Siner Tomato – D. Ermichoi
Dog Mastino – A. Shtyrbul
Chipollino – J. Gribinenko
Cipollone, his father – V. Azarovsky
Radish, girlfriend Chipollino – V. Petrova
Kum Pumpkin - А. Petrov
Kordebalet:
J. Evstifeeva , E. Kazachenko, A. Unku, A. Hlopotova, K. Kurenkova, A. Nepritskaya, T. Levodyanskaya
Annotation
Cheerful music and dance performance in the genre of "vegetable cabaret", based on the popular fairy tale of the famous Italian writer Gianni Rodari about the adventures of the brave and courageous boy onions in the kingdom of Prince Lemon.
You will see an incredible adventure perky and cheerful Cipollino and his friends: the godfather Pumpkin, Radish girls, Zemlyanichki and Count Cherries in the fruit and vegetable dreamland! And their struggle against the main offenders: stupid and confused Prince Lemon, cherries and countesses Signor tomatoes.
A play about friendship, help a friend in trouble.
The performance is recommended for both children and adults. After all, laughter, fun, and fresh vegetable and fruit juices prolong human life!
Want to become a long-lived? Come to the show "The Adventures of Cipollino"!
Photos of play